Home
Reduce the running cost of your Online Backup Business and Increase sales
Leverage your Comet® Backup Software investment with this function rich online backup management service
Free up manpower with automatic invoicing and customer payment collection
Attract more business with a web portal - branded and integrated for you
Re-energise your sales staff with a CRM designed specifically for your business
Learn more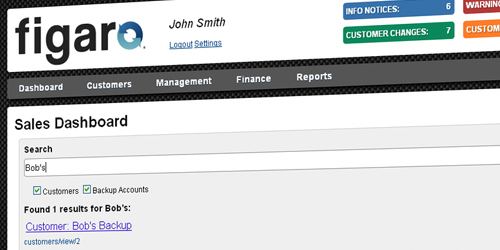 Automated billing

Automate your invoicing and direct debits to help make your accountant's life a breeze, with integrated billing and flexible pricing packages.

Server management

Easily manage your Comet® backup servers and accounts. Designed with simplicity in mind, figaro's server administration tools take the tech out of technical. Turn the Comet® features to your advantage.

In depth reporting

Find out what is really going on. figaro's comprehensive reporting suite gives you the data you require to make decisions.
Customer Portal

Attract new customers and keep existing ones happy. A fully branded, customer login portal for your clients and resellers to view and manage their accounts and for you to take full advantage of the Comet® Trial period feature - figaro keeps track, keeps tidy and helps you convert potential customers.

Staff efficiency

Help your staff to stay on top of their work with built in notifications and action history with all system access being managed by fully customisable permissions.

Access from anywhere

Supervising users can login and manage the business from anywhere on the web whilst ensuring main business access is locked down to specified locations.

Learn more about figaro and it's features